Site 2.46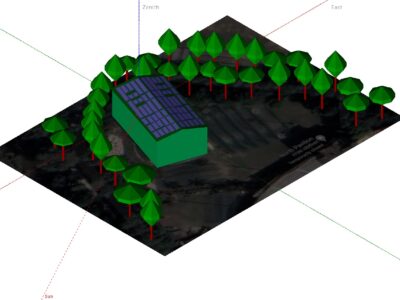 Health
Average Specific Yield
907 kWh/kWp
Total Estimated Loss
70.69%
CAPEX, OPEX
1.78 ₹/Wp, 0.22 ₹/Wp/a
Expenditure / Energy
2.0 ₹/kWh to 2.2 ₹/kWh
Abstract
The PV plant shows varied tilt angles and improper fixation method that prevents proper air flow, some damaged modules were found, the cleaning method is inefficient and casts shadows on the system, some cables are exposed to the weather, and the catwalks are inadequate. It is recommended to (i) retrofit the mounting structure and catwalks, (ii) remove old cleaning system and increase the cleaning cycles, (iii) replace damaged modules, (iv) re-sort the modules according to their mechanical damage, and (v) re-arrange the strings based on the varied tilts. The estimated production boost expected by the retrofitting actions lies between 15 -17%.
Main Findings
Poor cable management: A cable tray is open, and some cables and connector are exposed to weather conditions and corroded.
Two damaged modules are connected to the system, resulting in low generation.
Installed walkways are inadequate in size and material for O&M activities.
Improper clamping method of the modules
Mid clamping of some modules is absent and improper clamps were selected for end clamping, causing clamps damages.
The curved rooftop causes a variation of tilt angles on both sides of the roof.
Bus bar corrosion were observed on some modules.
Insufficient ventilation.
The system is insufficiently ventilated, which leads to an underperformance of the modules.
A pyranometer was found on site but no data is logged, and the temperature probe shows signs of rust.
Impact on Performance
Near Shading
Water sprinklers for cleaning and light poles cast shadows on the system, accounting for 0.6% of near shading losses.
Soiling on the modules
Heavy Soiling
The on-site measured soiling losses were estimated in 13.4% from IV curve measurements.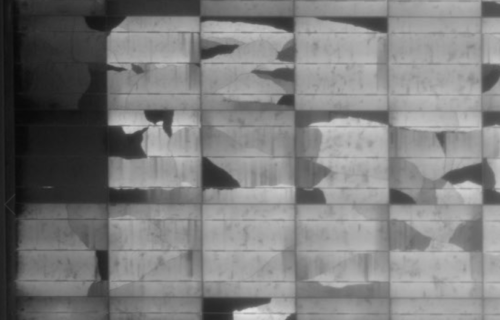 Isolated parts and micro- cracks
Cell Cracks
Severe damaged modules were found with micro-cracks and isolated parts by Electroluminescence analysis.
Underperformance
The underperformance of the measured modules is around 34.9%.
Total Estimated Energy Loss
≈ 70.69%
Proposed Solutions
A data logger shall be installed to properly determine the performance of the system.
The cleaning cycles shall be increased based on the results of the soiling study that adjusts the cleaning needs to each season.
Proper walkways shall be installed in order to carry O&M activities safely
Broken modules should be replaced.
A restringing of the modules shall be conducted in the following way: modules with the same tilt angle shall be installed in the same string or MPPT.
Modules with heavy cracks shall be grouped in the same string or at least assigned to one MPPT. The grouping will be conducted based on infrared inspection.
The shading objects on the roof shall be removed.
All cables shall be protected against weather with UV protection.
The module fixation method shall be improved as manufacturer specification to allow proper air flow under the system, including missing clamps.