Site 2.24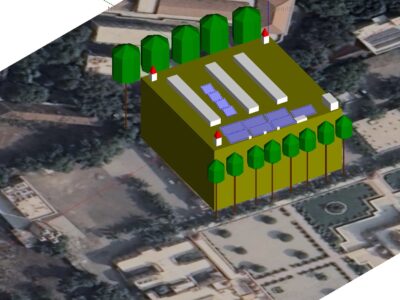 Health
Nominal Capacity
46.08 kWp
Average Specific Yield
1244 kWh/kWp
Total Estimated Loss
29.1%
CAPEX, OPEX
2.26 ₹/Wp, 0 ₹/Wp/a
Expenditure / Energy
0.7 ₹/kWh to 0.6 ₹/kWh
Abstract
Some shaded modules and, loosely hanging cables were found. The substructure has inferior workmanship in some places. It is recommended to (i) fix and protection of the cables and connectors (ii) replace the rusted screws, (iii) change the module tilt to its optimal position, (iv) re-string the shaded or broken modules, and (v) install a weather station or at least an irradiation sensor on the module plane to quantify and monitor the performance ratio. The estimated production boost expected by the retrofitting actions lies between 12% and 15%.
Main Findings
Loosely hanging cables and low bending radius.
Poor cable management: Cables loosely hanging from the structure and are exposed to ambient. The minimum cable bending radius is not respected.
Objects under the modules can lead to insufficient rear ventilation.
The screws used in the mounting structures showed signs of rusting.
Shading on installations by boundary wall.
On the south side of the roof edge are superstructures that shade parts of the plant.
Some of the unused plugs on the inverters are not closed, which can lead to moisture ingress.
No weather station identified on site.
The fans of the inverters are slightly soiled.
Difficult access to some installations.
Hotspot from soiling.
IR analysis shows presence of hotspots due to broken cell and soiling. The pattern is indicating a possibility of PID issues.
Impact on Performance
Heavy Soiling
The system performance was affected by soiling losses of 4%, estimated from IV curve measurements.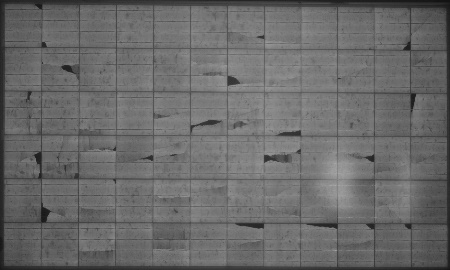 Defects from EL imaging.
Cell Cracks
The EL image reveals presence of micro- cracks and isolated parts.
Underperformance
Based on the IV curve measurements, the estimated underperformance is 4% for measured modules.
Near Shading
According to PVsyst simulations, the near shading losses account to 1.7%.
Inhomogeneous tilt angle
Module tilt creates losses of 1.9% relative to optimal tilt.
Total Estimated Energy Loss
≈ 29.1%
Proposed Solutions
The cable layout shall be optimized by using a suitable cable rack with roof or cable coating.
In order to be able to clean the modules on steles that are difficult to access, the cleaning staff should be equipped with the appropriate tools.
Modules tilt shall be changed to an optimal value.
Modules shall be investigated further for PID, and if necessary, the system should be equipped with an anti-PID box.
A re-sorting of modules shall be conducted to have lower performing modules in the same string or at least same MPPT.
A re-stringing of modules shall be conducted to have lower performing in the same string or at least same MPPT.
A weather station, or at least an irradiation sensor on the module plane shall be installed so that the performance of the system can be properly determined.
Rusted screws shall be replaced.