Site 2.2
Health
Average Specific Yield
914 kWh/kWp
Total Estimated Loss
45.64%
CAPEX, OPEX
1.57 ₹/Wp, 0.12 ₹/Wp/a
Expenditure / Energy
2.1 ₹/kWh to 1.4 ₹/kWh
Abstract
The PV plant is affected by near shadings caused by nearby trees, buildings, and a water tank; a soiling loss of 1% was determined via IV measurements; some modules present broken front glass, burnt marks and moisture damage; and modules were not properly fixed, and some fixing elements are rusted. It is recommended to (i) carry out a deep cleaning of contaminated modules, (ii) rearrange the strings based on shading categories, (iii) install an irradiation sensor on the tilted plane to compute and check the Performance Ratio, and (iv) replace damaged modules. The estimated production boost caused by the retrofitting actions lies between 10-15%.
Main Findings
Module washers, nuts and bolts are mostly rusted.
Burnt cells due to moisture trapping into module.
No module to earth connection.
Modules with misalignment EW
Modules are not properly aligned on rails/beams.
Damaged module, Hotspots
Damaged modules with burnt busbars and broken glass are connected to the system.
Impact on Performance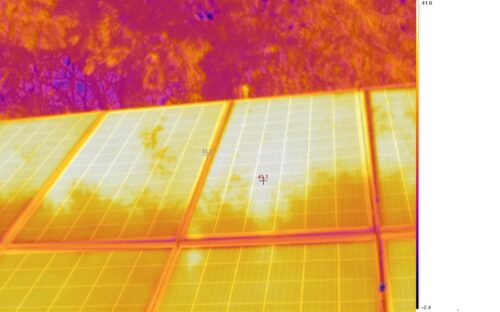 Shading caused by trees in the surroundings.
Near Shading
Shading can cause the main impact on the system performance. According to the simulation of the system, the near shading loss accounts for 3%.

Cells with inhomogeneous temperatures, potential PID effect
Heavy Soiling
Soiling is found on the modules. A soiling loss of 1% was determined from the IV curve measurement, which is likely to cause hot spots in the modules.
Underperformance
The under-performance of the measured modules is around 30.1%.
Total Estimated Energy Loss
≈ 45.64%
Proposed Solutions
The broken/burned modules shall be replaced with new modules.
The wet cleaning cycles shall also be included based on the results of the soiling study.
A weather station, or at least an irradiation sensor on the module plane, shall be installed so to determine the performance of the system.
A re-stringing of the modules from the shaded areas shall be conducted: modules with similar shading conditions shall be installed in the same string or at least assigned to individual MPPTs.
PV modules showing power drops above the warranty conditions shall be replaced. If the replacement is not possible, the modules shall be regrouped in power classes within the same string and assigned to individual MPPTs.