Site IV.5
Health
Average Specific Yield
1046 kWh/kWp
Total Estimated Loss
9.5%
CAPEX, OPEX
1.1 ₹/Wp, 0.2 ₹/Wp/a
Abstract
The PV plant is affected by near shadings caused by antennas and lightning rods. Furthermore, the modules show heavy contamination from cement and some poorly produced cells. It is recommended to (i) carry out a deep cleaning of heavily contaminated modules, (ii) replace the roof structures which cause shading on the system, (iii) replace modules exceeding the manufacturer's guaranteed performance drop and (iv) replace modules with defective J-boxes. The estimated production boost caused by the retrofitting actions lies between 10-15%.
Main Findings
Cable ties broke, hence the module cables and connectors were loosely hanging.
Screws of the fastening clamps
In some modules, the individual cells fall out of order.
Several modules have scratches in the front glass.
Modules with open or missing lids
The modules present different types of J- box failure types, e.g., overheated, open or missing lid.
The cables of the irradiation sensor are not installed correctly.
The cable ducts are brittle and some are broken.
Improper attachment of combiner box
The combiner box is not attached correctly.
Hot spot due to cement residues
Some modules are contaminated with cement residues that create hot spots.
Delamination issues
Poorly produced cells were found in some modules.
Impact on Performance
Heavy Soiling
Soiling losses were determined based on the measurements on-site to be 6.9%, on average.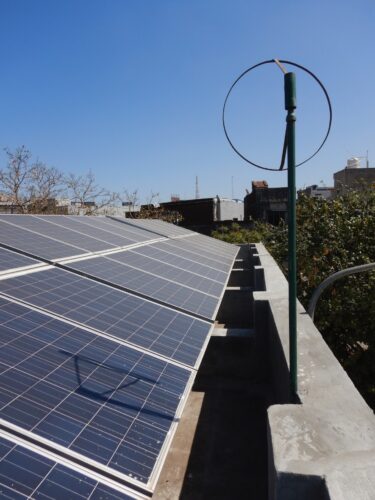 Shading through antenna
Near Shading
Several roof structures cause local shading on the system.
Total Estimated Energy Loss
≈ 9.5%
Proposed Solutions
Modules with manufacturing defects (i.e., delamination) shall be replaced.
Modules with any defect on the J-box should be immediate replaced (safety, operation and reliability issues).
The modules contaminated by cement should be cleaned.
All of the DC cabling, including the combiner box, should be maintained for proper attachment.
PV modules showing power drops above the warranty conditions should be replaced. If the replacement is not possible, the modules should be regrouped in power classes within the same string and assigned to individual MPPT.
The roof structures that shade the system should be moved.