Site III.4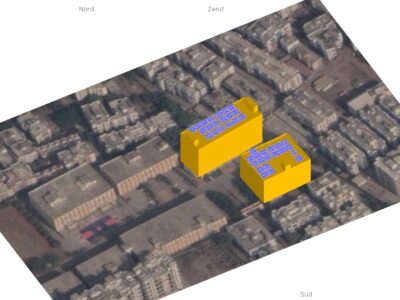 Health
Nominal Capacity
120.64 kWp
Average Specific Yield
n/a kWh/kWp
Total Estimated Loss
10.7%
CAPEX, OPEX
0.2 ₹/Wp, 0.2 ₹/Wp/a
Abstract
The PV plant, from the safety perspective, presents a defective module attachment. Although a few hotspots, likely due to heavy pollution were spotted (IR), the sample of PV modules did not reveal major cracks or isolated parts. It is recommended to (i) increase cleaning frequency (removing hard-soiling), (ii) cable fixing with UV protection (iii) continuous cleaning of the inverter-fan filters and (iv) install a weather station or at least an irradiation sensor on the module plane to quantify and monitor the Performance Ratio. The estimated production boost expected by the retrofitting actions lies between 10% and 13%.
Main Findings
No weather station has been installed and the Performance Ratio is not tracked.
The filters of the inverters should be cleaned.
Open fastening screws
Open fastening screws were observed on the fixing clamps.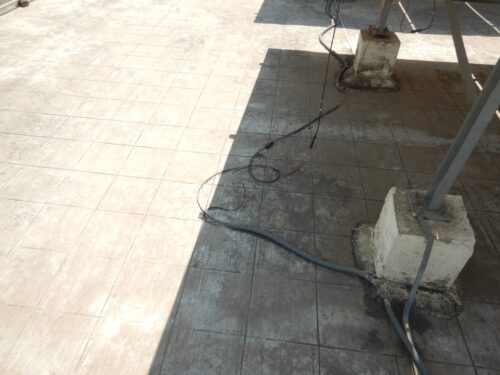 Loose cables
Missing cable ties, hence the module cables and connectors were loosely hanging.
Some parts of the cables are exposed to UV radiation. Pipes conveying cables are brittle and some parts have already broken.
Some of the module cables are fixed exceeding the minimum bending radius.
Electroluminescence samples
The four random electroluminescence samples showed no mechanical damage or signs of aging of the modules.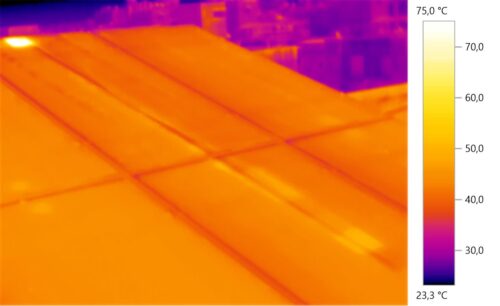 Hotspots created by pollution
Heavy partial pollution creates hotspots. These not only lower the yield but also make the modules age faster.
Impact on Performance
Heavy Soiling
Soiling measurements were conducted measuring both the short circuit current and nominal power before and after cleaning. The estimated soiling loss is on average 8%.
Near Shading
The simulation of the system showed a shading loss of 2.7%.
Total Estimated Energy Loss
≈ 10.7%
Proposed Solutions
A weather station, or at least an irradiation sensor on the module plane, shall be installed so that the performance of the system can be properly determined.
Due to the high air pollution in Pune, it is advisable to clean the modules even more regularly.
The loose hanging cables should be fixed and the bending radii checked.
Fixing the fastening clamps is essential to ensure the safety of the system.