Site III.10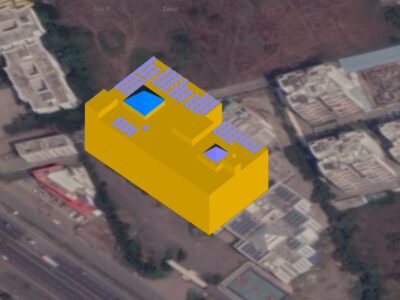 Health
Nominal Capacity
318.7 kWp
Average Specific Yield
928 kWh/kWp
Total Estimated Loss
24.1%
CAPEX, OPEX
1.3 ₹/Wp, 0.4 ₹/Wp/a
Abstract
The PV plant is heavily affected by soiling. Furthermore, near and microshading, are likely responsible for hotspots discovered via thermographic inspection. A considerable amount of microcracks and isolated parts were discovered through the electroluminescence sample. PID was found to be in a fairly advanced stage and some of the modules are extremely dirty. It is recommended to (i) Improve O&M activities (ii) implement anti-PID solutions (iii) install a irradiation sensor and (iv) restringing of the modules from the shaded areas. The estimated production boost expected by the retrofitting actions lies between 15% and 24%.
Main Findings
No weather station has been installed and the Performance Ratio is not tracked.
Shading on module
The system is heavily affected by shading from the building structure and surrounding components.
The complicated clamping system makes maintenance of the modules almost impossible.
Cracks in the back sheet
The back sheet shows signs of aging in the form of cracks.
Some parts of the cables are exposed to UV radiation and the bending radii have not been observed.
Some of the strings measured had lower outputs caused by shading.
Some areas of the plant were extremely dirty.
Several hot cables were found on the distribution boxes and inverters.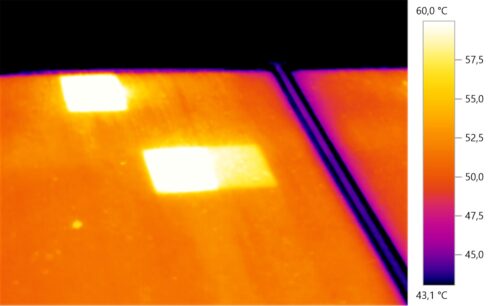 Hotspots induced by pollution
Heavy partial pollution creates hotspots. Some modules were extremely dirty.
Impact on Performance
Heavy Soiling
Soiling measurements were conducted before and after cleaning. The estimated soiling loss is on average 10.6%. The measurements were carried out on the less polluted modules. Higher losses are to be expected in other areas of the plant.
PID presence via EL
Potential Induced Degradation
PID presence was detected via IR and EL inspection. The impact at the system level is estimated to be around 10%.
Near Shading
The simulation of the system showed a shading loss of 3.5%. This value refers to the part of the system with fewer shading problems.
Total Estimated Energy Loss
≈ 24.1%
Proposed Solutions
A restringing of the modules from the shaded areas should be conducted in the following way: modules with similar shading conditions should be installed in the same string or at least assigned to individual MPPTs.
A weather station, or at least an irradiation sensor on the module plane, shall be installed so that the performance of the system can be properly determined.
Anti-PID measures should be implemented in order to stop or reverse the degradation. PV modules showing power drops above the warranty conditions shall be replaced. If the replacement is not possible, the modules shall be regrouped in power classes within the same string and assigned to individual MPPTs.
The modules should be cleaned regularly.
The broken modules should be replaced with new modules.