Site III.1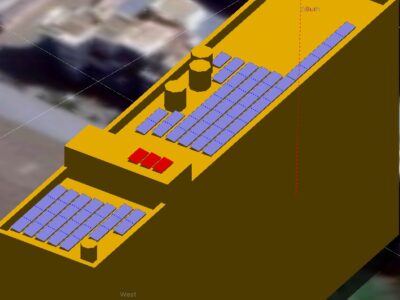 Health
Average Specific Yield
1095 kWh/kWp
Total Estimated Loss
18.5%
CAPEX, OPEX
1.1 ₹/Wp, 0.4₹/Wp/a
Abstract
The PV plant is affected by significant soiling due to city pollution and several warm cells likely due to near shadings. Additionally, isolation and safety issues cannot be excluded due to the presence of backsheet scratches and open J-boxes. It is recommended to (i) increase the cleaning frequency (i.e., modules disregarded), (ii) evaluation of the module J-box attachment, (iii) module string rearrangement based on the level of mechanical damage and (iv) weather station/irradiation sensor installation to better monitor the plant`s KPIs. The estimated production boost expected by the retrofitting actions lies between 10% and 18%.
Main Findings
During the module sample selection, the first modules selected exposed a detached J-box likely due to overtightened DC cables.
The module installation on the East side of the system was performed gluing the clamps to the floor, hampering O&M.
The spacing between modules and ground does not allow for an efficient convection.
Shoe footprints
No weather station has been installed. Furthermore, the Performance Ratio is not tracked.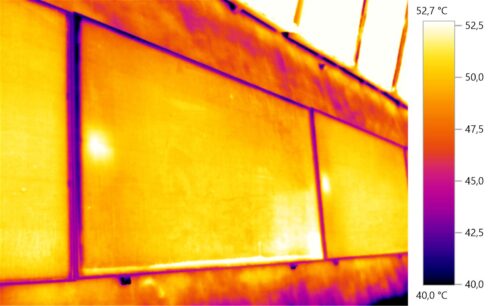 IR inspection of the soiling conditions
Foot prints, likely from walking on top of the modules, were spotted throughout the plant.
Electroluminescence imaging revealed a considerable number of parallel and micro cracks.
Impact on Performance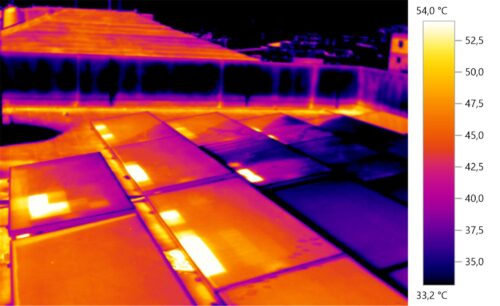 Soiling on the bottom cell string
Heavy Soiling
Based on on-site measurements, soiling losses represent on average of 7.5%. Although the soiling induces a shading in the bottom cell string, the landscape orientation reduces the impact of the current reduction.
Near Shading
The losses due to near shadings could represent 6% less irradiance loss, based on a representative simulation.
Example of module with cracks
Cell Cracks
Severe cracks on module level account for approximately 4-6% of nominal power drop on system level. This statement bases on the extrapolation of the results of the inspected samples.
Total Estimated Energy Loss
≈ 18.5%
Proposed Solutions
In order to guarantee module long-term reliability and safety, the module J-boxes shall be assessed. Modules with open or detached J-boxes shall be replaced.
Modules with a large amount of cracks shall be grouped in the same string or at least assigned to one MPPT. The grouping shall be conducted based on an infrared inspection with high irradiation levels and after cleaning activities.
Better cleaning cycles required
The manual cleaning cycles shall be implemented and scheduled based on the results of a soiling study that adjusts the cleaning needs to each season.
The integrity of the mounting structure shall be reinforced to allow a proper O&M.
A weather station, or at least an irradiation sensor shall be installed on- site to obtain reliable information, i.e., for the PV plant Performance Ratio calculation.