Site 2.14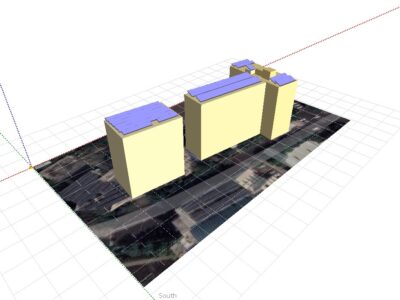 Health
Average Specific Yield
1110 kWh/kWp
Total Estimated Loss
36.83%
CAPEX, OPEX
1.8 ₹/Wp, 0.95 ₹/Wp/a
Expenditure / Energy
18 ₹/kWh to 9.4 ₹/kWh
Abstract
The PV plant is heavily affected by soiling and shading. Some of the modules are installed end to end. Footprints on the modules indicate a poor maintenance. Some of the connectors have been found open. It is recommended to (i) replace to broken modules, (ii) do a cabling check, (iii) continuous cleaning of the modules especially the bird drops, (iv) re-stringing of shaded modules, and (v) yearly thermography inspection of the modules. The estimated production boost expected by the retrofitting actions lies between 5 and 10%.
Main Findings
Cables in contact with sharp edges.
Poor Cable Management, cables exposed to UV and not properly tied up. Risk of cable cut due to fastening with a screw.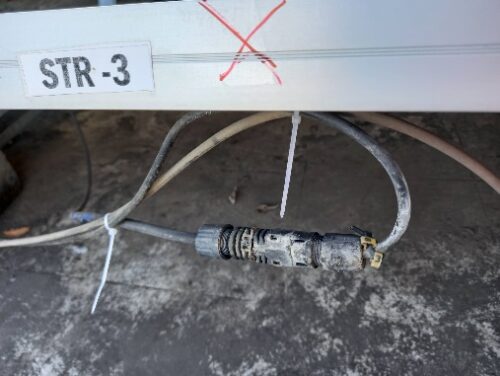 Broken and burned connector
Broken and burned MC4 connectors indicate an isolation problem.
The installed irradiation sensor is facing shading during certain times of the day.
Some screws of the system are corroded which can lead to serious damages.
The grounding is not connected properly.
Inverter cabling.
The inverter wiring is not properly fastened and labelled.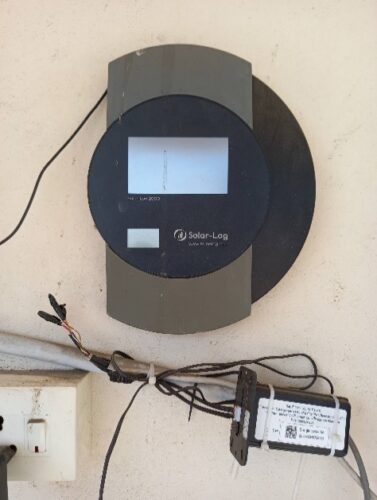 Data logger damaged.
Irradiance sensor is installed but data logger is not working in the last 1.5 years, this means monitoring is not being carried out.
Impact on Performance
Interrow shading.
Self Shading
Inter-row shading and near shading are impairing the system performance.
Underperformance
The measured underperformance of the inspected modules is 12.9%.
Total Estimated Energy Loss
≈ 36.83%
Proposed Solutions
Cables should be tied up with plastic seals and protected from UV irradiation. Sharp edges should be avoided.
If the data logger cannot be repaired then it should be replaced, in order to monitor the system properly.
The cleaning cycles shall be increased based on the results of a soiling study that adjusts the cleaning needs to each season. This includes inverter fans.
A re-stringing of the modules from the shaded areas shall be conducted in the following way: modules with similar shading conditions shall be installed in the same string or at least assigned to individual MPPTs.
The functionality of the grounding must be checked, and improper installations repaired.
The broken modules should be replaced by new once to ensure the safety of the site and increase the performance of the system.
The broken or burned connector should be replaced.